WELCOME TO STARLIGHT LASER EXPRESS
VISIT MY BOOK TRAILER:

http://www.youtube.com/watch?V=O7h6Ia3spb8

GO TO THE NEXT PAGE TO SEE THE FOUR AWARD-WINNING BOOKS
VISIT ALL THREEE PAGES OF JAN FRAZIER'S WEBSITE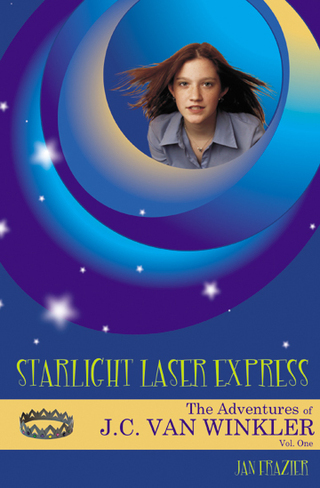 Starlight Laser Express is the first in a series of three novels for young adults, which not only entertains the readers but also educates them with knowledge of countries from which our American heritage stems. J.C. van Winkler and Smitty -- her ghostly friend -- travel in a time-warp to Europe via Starlight Laser Express.

What is Starlight Laser Express? Smitty tries to briefly explain it to J.C.

"It's a secret. All I can tell you is that we put our palms together and close our eyes and it just happens. We'll both feel a tingling sensation in our bodies, and we'll see a million stars pass by in a second in our minds' eye. To simplify matters, we'll call this whole transaction Starlight Laser Express. In a split second, we'll be in Europe and ready to perform our task."

J.C. experienced traveling on Starlight Laser Express during their first trip to London. "It was as Smitty said -- a tingle, stars, and swoosh -- we were in seventeenth-century England."
AWARD-WINNING NOVEL

Starlight Laser Express was awarded the Tommy Award for excellence in the young adult fantasy genre.
SEEKING AN EDITOR?



If you are an author and seeking an editor, I recommend Marilyn Weis. www.theweisrevise.com
What an amazing adventure -- or rather adventures -- J.C. encounters as she travels at the speed of light through time into the past world of European families with histories that need revising. The author captivates the reader with fascinating scenes straight out of European history while capturing the imagination. The heroine is as real as any character in literature, and her adventures make the reader move at the speed of light through the pages of amazing trials and triumphs....Christy Loy, English teacher.


Starlight Laser Express takes the young adult reader to places and events previously explored in many social studies classes. Now, however, the past, present, and future come alive for the readers. The students have a deeper understanding as to "why study history" as they travel through time and space with J.C. van Winkler and Smitty. J.C. gains insight into history and humanity as will the readers as they share nighttime adventures on the Starlight Laser Express....Barbara O'Brien, Social Studies and English teacher


J.C. van Winkler isn't your ordinary every-day traveler...nor is her traveling companion, Smitty. During the day, J.C. is a young girl who goes to school. When night falls, she becomes a world traveler. Her nocturnal traveling company is a ghost, trying to find peace in his soul. Throughout old-world Europe, Smitty and J.C. help others in need. The delightful tale entertains as well as educates the young reader. Author, Jan Frazier, draws on her extensive European travels and her background as a former high school English teacher to captivate readers, young and old. A must read!...Marilyn Weishaar, free-lance editor

Jan Frazier inspires kids to read and gives them a desire to travel. Jan's books open their minds and broaden their concept of the world. They realize that their own experience can be put into a piece of literature...Dee Shaub, third grade teacher, Neubert School, Algonquin, IL

The story of J.C. is not only adventurous, but also educational. My daughter has learned more about geography and European history in one week (from the book) than she learned in all of grammar school. Jan's writing is wonderful for any age group...Dr. Dawn Cadwallader, Madison, Wisconsin.
VISIT THE NEXT TWO PAGES -- MY WORKS AND BIOGRAPHY -- OF MY WEBSITE